End of sales
International Shipping
To receive your purchased item outside of Japan, please use the international shipping service (Tenso.com). Inquiries for the service cost and how to use, please contact Tenso.com (
https://www.tenso.com
)
*An additional cost may be charged by the services and shipping of Tenso.com, separately from our website.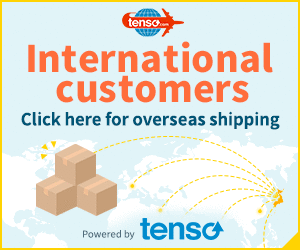 End of sales
Shipping Charges
All shipping within Japan for up to 20 prizes is ¥540(Tax included).


Deliver Date
Approximately 2.5 months after the end of the lottery
*Delivery date may vary due to order status or the status of the product.
*Products may alternate, change sales periods or resale without prior notice.
*All products are made-to-order, when the scheduled quantity of the product is reached, it will no longer be available.


Delivery
Up to 20 prizes is considered as one shipping, charged with the same price.
*Delivery must be made to the same address from the same lottery.
*For every 1 prize exceeding the delivery capacity, there will be an additional cost.
For example if the capacity for the delivery is at 10 prizes:
1-10 prizes would be charged for 1 shipping cost.
11-20 prizes would be charged for an additional shipping costs.


■What is e chance
An entertainment internet lottery where everybody is a winner!
Lots of limited prizes that you can only find here, and more fascinating prizes in the future!


■Payment Options
Available payment options are below.
・Credit card (VISA, MasterCard, JCB, AMEX, DINERS)
・Phone carrier payment (Docomo, au, Softbank)
・WebMoney
*Choose the lottery of your choice, enter the number of times to draw and press the "Order" button and finish, the payment will be settled.
* Beware, after the order is complete, cancelling, returning or exchanging of the prize will not be accepted.


© Kizuna AI